---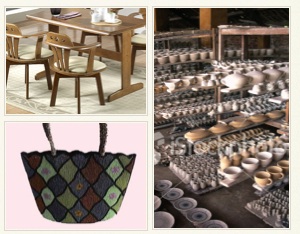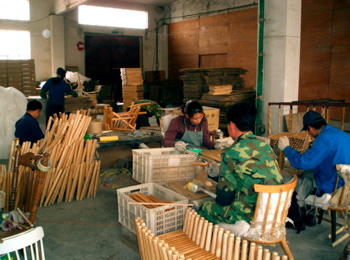 In early June, 2011 I attended the ASEAN-China Small Medium Enterprise (SME) Conference in Kuala Lumpur which was hosted by the Malaysian government. At the conference, I spoke with numerous government officials in the region supporting SME's, plus many SME owners and senior management officials. I noted that although all of the ASEAN countries are encouraging SME formation and growth, some of the countries seemed to have highly effective policies while others paid lip service to supporting SMEs but often were less concrete and less supportive in their policies. This experience made me reflect and look into the situation in Vietnam.


The Vietnamese government, defines SMEs by Decree 56/2009/ND-CP as follows:


Small and medium-sized enterprises are business establishments that have registered their business according to law and are divided into three levels: very small, small and medium according to the sizes of their total capital (equivalent to the total assets identified in an enterprise's accounting balance sheet) or the average annual number of laborers (total capital is the priority criterion)

, concretely as follows: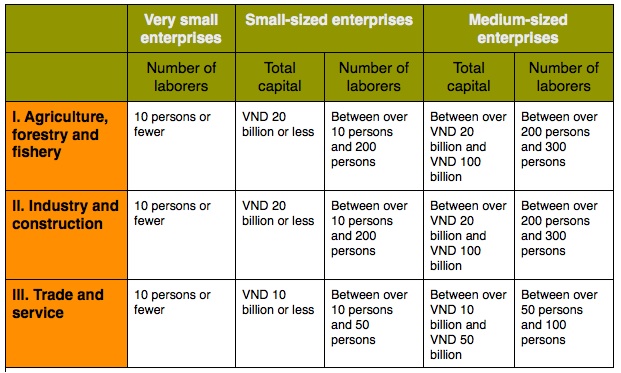 Table: by Business-in-Asia.com

In Vietnam, according to a Spring 2011 report the number of SMEs is nearing 400,000. SMEs represent 99 percent (the government often uses a figure of 97% - all seem to be in agreement that the figure is in the very high 90s) of the number of businesses of the country; employ 77 percent of the workforce and account for 80 percent of the retail market. According to the government over 40% of GDP is produced by SMEs. Further, SMEs are the engine of growth in Vietnam just as small business plays the same role in developed markets like the U.S. In Vietnam, SMEs in Vietnam; on average, have seen their profits grow approximately 20 percent each year for the immediate past.

Additionally, organizations such as the Vietnam Chamber of Commerce and Industry (VCCI), the World Bank, the Asian Development Bank (ADB) and many foreign government through their embassies such as the German and Danish government have implemented a variety of programs supporting SMEs to help them improve working skills for their employees and business management and leadership skills.

Many SMEs in Vietnam have grown to be significant players in their industries. Examples are Nutifood Nutrition & Dairy, THP Beverage, Yen Viet and Masanfood. These companies have in a little over a decade grown from small enterprises to become substantial players nationally and now are starting to be regional players as well. Although this growth is possible, finding sufficient funding is difficult and many of the SMEs have had to turn to Investment funds for both money and management assistance.



Private Sector Contribution to Vietnam's GDP
in comparison with Public Sector and FDI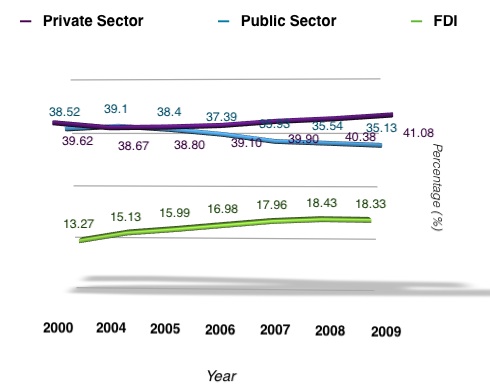 Graph: by Business-in-Asia.com

Recently the government has realized that the policies it is following to control inflation as well as decreased demand in Europe, the U.S. and elsewhere were making things difficult for SMEs . Because of this, the Prime Minister issued Decision 21 dated 6 April 2011 to extend the deadline for payment of corporate income tax ("CIT") for a period of one year from the due date for SMEs. This was a small step but more is needed according to former head of the Central Bank, Cao Si Kiem, in a news story by VN News in early July. Kiem who is now the head of the Vietnamese government organized SME Association stated that "a third of the workers at small enterprises could lose their jobs this year, at least temporarily. The ex-government adviser thinks 30 percent of such firms have stopped operating just this year."

At a meeting held by the VCCI in Ha Noi on July 18, Nguyen Thi Thu Hang, director of the VCCI's Enterprise Development Institute, asked the Vietnam government to reprogram funds by slashing public investment projects and using the savings to support SMEs. Among the measures called for in her presentation were the following:

She called for a systems of interest-rate support packages for SMEs. Interest rates should stay at less than 12 per cent per year, she said, adding that the establishment of a SME support fund would help achieve this.

She also requested a credit rating system be developed to help commercial banks quickly appraise and approve loans for SMEs.

On behalf of the Vietnamese business community, she suggested that the Government should introduce strategies to lure foreign direct investment (FDI) from value-added sectors, Hang said, adding that co-operation among domestic and foreign enterprises would sharpen the economy's overall competitiveness.
Representatives from associations agreed with her above points but also said SMEs and exporters who used domestic input materials and were involved in support industries should be given priority regarding capital and technology to help develop what is currently a weak supply chain system in Vietnam.

Many SMEs at the seminar expressed concern about high interest rates, saying they had adversely affected their operations.

According to a new survey conducted by the VCCI on 360 businesses and 34 business associations nationwide, about 62 percent conceded that production costs had increased significantly and 44 percent reported declining profits on each product unit.

The survey showed that as of April this year, about 44 percent of businesses were borrowing from banks at interest rates of more than 18 percent per year.

At the beginning of last month, some enterprises encountered higher interest rates, from 20 percent to 27 percent per year.

According to the Ministry of Planning and Investment (MPI), up to the end of last year, about 544,394 enterprises were registered under the Law on Enterprises. During the first half of the year, more than 39,500 new businesses were added with a total registered capital of VND230.2 trillion ($11.2 billion).



Number of New Vietnamese SMEs from 2000 to 2010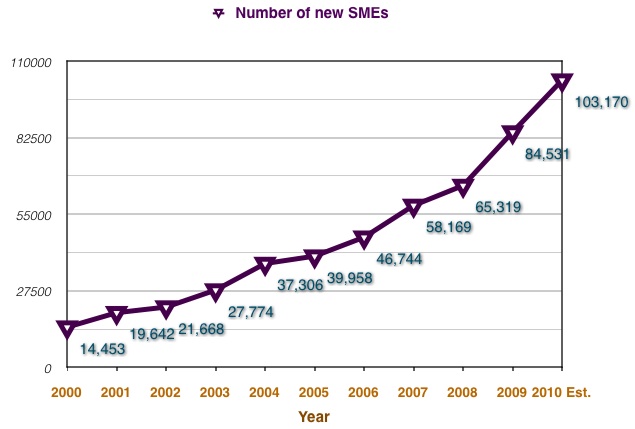 Graph: by Business-in-Asia.com

Although the number of new enterprises had been increasing in recent years, the attrition rate among start-ups is very high according to the ministry. More is definitely needed as Vietnam looks to integration with ASEAN in 2015 even though Vietnam as a less developed regional economy will be able to delay competition in some areas at least initially.


---
About the Author:
Christopher W. Runckel, a former senior US diplomat who served in many counties in Asia, is a graduate of the University of Oregon and Lewis and Clark Law School. He served as Deputy General Counsel of President Gerald Ford's Presidential Clemency Board. Mr. Runckel is the principal and founder of Runckel & Associates, a Portland, Oregon based consulting company that assists businesses expand business opportunities in Asia. (www.business-in-asia.com)
Until April of 1999, Mr. Runckel was Minister-Counselor of the US Embassy in Beijing, China. Mr. Runckel lived and worked in Thailand for over six years. He was the first permanently assigned U.S. diplomat to return to Vietnam after the Vietnam War. In 1997, he was awarded the U.S. Department of States highest award for service, the Distinguished Honor Award, for his contribution to improving U.S.-Vietnam relations.
---