---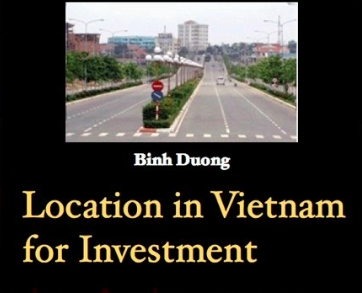 Click here to download

Presentation at the Investment in Vietnam Seminar


on May 24, 2011, Bangkok, Thailand



As wages and other costs rise and Thailand starts to lose its competitiveness in export markets, local businessmen see opportunities in investing overseas. To many, overseas investment is new to them; while some may already have their foot in the neighboring countries markets for many years. For others, it is that they want to change their business structure in order to be more prominent in their existing market. For most Thai companies, the nearest country that is close, similar in culture and has a substantial population of consumers is Vietnam. Some of the questions that then come to mind are: What location in Vietnam offers high potential for Thai businesses? What type of business is suitable there? Where specifically to locate? What are the costs?, and so on.



Why Vietnam?



During the last 15 years, Vietnam's GDP has grown at 7.5% per year on average and will continue to grow at similar levels for the immediate future. Seventy percent of Vietnam's 85 million people are under 30 years of age, enabling the country to provide a secure workforce as well as low labor costs to investors on the long term. Further, this young population offers a large pool of consumers since the young tend to buy more than their older relatives. The Vietnamese government also had amended various laws covering investment, enterprise, land, and business competition to become more favorable to foreign investors. For instance, foreign investors may invest in all sectors not specifically prohibited by law, which includes telecommunications, infrastructure, and retail businesses. Foreign investors are allowed to acquire 100% shares in private firms following specific guidelines. Lastly, Vietnam is close enough for business leaders and staff to travel on an approximately one-hour flight to Ho Chi Minh City, have a productive meetings or visit, and be back to Thailand in one day. There are many flights available from multiple airlines to further simplify business.



Why Binh Duong?



Binh Duong province is adjacent to Ho Chi Minh City in the South of the country. To travel there takes about one hour drive. This is similar to from Bangkok to Chonburi. Currently the province has developed plans to build its new central city and will also expand the provincial economic and industrial zones. This development project includes a modern residential zone, industrial and service zones that will have shopping malls, banks and financial services, university, schools, hospital, golf resort and a horse-racing track. This is not just a plan but a growing reality as will be seen in a visit as most of the infrastructure and much of the buildings are already under construction or already completed. The province is eager to invite Thai businesses to operate or provide services there. Benefit for businesses located in Binh Duong are: new businesses could start at lower costs compared to Ho Chi Minh City, even though their distance from major population centers is not that far. Factories and shops can take advantage of lower labor wages, a young population and enthusiastic workers. The province officials have also adjusted and simplified investment procedures for investors' convenience, including encouraging foreign companies to invest more easily by lessening regulations and helping to advise on lending sources. Furthermore, doing business in Binh Duong will not cover only the immediate local market but would also give access to a larger Vietnamese market with population of 84 million plus and establish Binh Duong as your base as it is closer to the commercial city of HCMC. This base-office could also be developed as an export base and the Thai company can connect to China which offers higher purchasing power and is also experiencing higher labor and other costs in major cities vis-a-vis Vietnam.

Thai investors are not new to Binh Duong province. Investment in Vietnam from Thailand has been located mostly in Ho Chi Minh City, Binh Duong, Dongnai and Vungtau, or what is called Vietnam's Southern Key Economic Zone (SKEZ). The SKEZ creates 75% of the country's revenue. Many Thai companies emphasize longer-term investment, such as Siam Cement and CP, with factories located in Binh Duong province's My Phuc Industrial Park. However, this does not mean that only large companies will be successful, small and medium businesses now have more opportunities to invest as well. After Vietnam joined the World Trade Organization (WTO) and ASEAN, the country offers more doors to Thai SMEs.

Binh Duong province is well-known for its many important factors to facilitate investment, such as good infrastructure (road, utilities, etc.), top private providers of business services and transparency in policy and regulations. Binh Duong focus on creating a hospitable environment for private service providers to operate there, with a strong pro-business provincial-level team and also real programs to excel in labor training/human resource management are all pluses. With the province's 6 universities and colleges, plus one new international university, The Eastern International University (EIU), these institutions are assisting companies meet the challenges of a shortage of unskilled laborers and good management workers that Asia is facing right now. The new city has a well-planned design to establish training and vocational institutions as part of the industrial zone development.



What type of business is suitable there?



Businesses and manufacturings that will do well in Binh Duong are supporting industries, food, consumer goods, animal feed and medicine, hi-tech, packaging, retail and other low labor intensive categories. High labor intensive industries, such as garments and textiles, which target very low wages, most often seek out provinces in the central part of Vietnam, for example. This area in the South is where the consumers are and headquarters of banks and related supporting businesses. As mentioned above, over one-half of business for the whole country is focussed in this southern area which is expanding more quickly than other areas and so companies that locate here usually are seeking to serve that market.

The growing number of middle and upper income families in Vietnam results in more consumer spending and the rapid transformation of Vietnamese families into higher income classes will continue. Research shows that the urban upper class will increase from 7% of the urban population in 2010 to 12% by 2015. The middle class will go up from the current 52% to 69% in 2015. This will increase the growth in demand for consumer durables such as consumer goods, appliances, consumer electronics and home furnishings. Also, with Thai's more extensive experience in management and export for so many years ahead of Vietnam, Thai companies have the advantages to grow faster than their rivals by taking advantage of their greater experience and their larger international contacts.



How can you get more information?



Contact Mr. Steve Vo (Vo Son Dien) in Vietnam directly for more information, procedure, quotation, etc. at vsdien@becamex.com.vn

Contact Ms. Piyakul (Eat) in Thailand for Thai Language at BecamexThailand@gmail.com

Contact Ms. Soraya Runckel for both Thai and English languages at the same e-mail address above.
---