---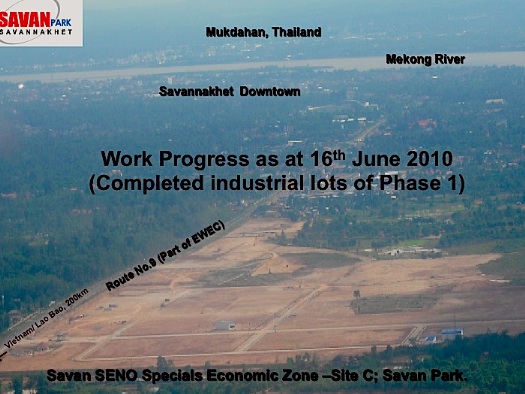 According to the Investment Promotion Department of the Lao Ministry of Planning and Investment, Vietnam has become the leading foreign investor in Laos, taking over the top position from China and Thailand, reported by Vientiane Times on June 2011.

Laos amended its law on foreign investment promotion in early 2010 aiming to attract foreign firms to the non-resource sector. The law offers a number of investment incentives including tax breaks and the right to own residential land in Laos. The law also creates a one-stop service for foreign firms seeking investment permission in Laos and aims to accelerate investment proposal consideration.

The country's top largest investment sector from 2000 to 2010 remained electricity with an investment value of US$4.5 billion, said the paper. Laos is viewed as a country aiming to be the ''battery of Asia'' because of its rich hydroelectric resources. In second place was mining with an investment value of US$3.2 billion. Services, agriculture, and the industry and handicraft sector are the third, fourth and fifth largest foreign investment sectors.

According to statistics, investment in natural resources is still the most attractive sector for foreign investment, despite government efforts to boost investment in the non-resource sector with a view to sustainable economic growth.



Number 1 FDI in Laos: Vietnam



Vietnamese businesses invested in 252 projects in Laos in the decade between 2000 and 2010, with a total value of US$2.77 billion, putting Vietnam ahead in the country's foreign investor rankings for the first time in a decade, said the Investment Promotion Department of the Lao Ministry of Planning and Investment.

According to Vientiane Times, the Deputy Director of the Investment Department, Manothong Vongsay, told the paper that in recent years, Vietnamese businesses had embarked on a number of high-value mining and hydropower projects in Laos. Another major Vietnamese backed project is a $1-billion golf course development in Vientiane. The surge in investment follows on from an agreement between Laos and Vietnam to boost bilateral trade to US$1 billion in 2010, to US$2 billion by 2015, and to US$5 billion by 2020, said the paper. Most of Laos's exports to Vietnam are timber, mining products and electricity, while Vietnamese exports to Laos mainly comprise machinery and consumer goods, reported Vientiane Times.



Number 2 FDI in Laos: China



Xinhua News in China reported on May 26, 2011 that Yunnan's trade with Laos was up more than 31%. Southwest China's Yunnan Province generated 203 million U.S. dollars in trade with Laos in 2010, an increase of 31.5% on the previous year, according to the provincial commerce authority. By the end of March 2011, Yunnan had established 126 companies in Laos, involving 731 million U.S. dollars in contracted capital. Of the total, 275 million dollars had been put in place, said the paper.

Chinese businesses overall invested in 397 projects worth about $2.71 billion over the decade in Laos, putting China in the second place of foreign investor rankings of the country.

Laos and China just marked their 50th anniversary of diplomatic ties on May 25, 2011. Bilateral trade volume broke one billion U.S. dollars in 2010, making China among Laos' largest trade and investment partners, said Chinese Ambassador Bu Jianguo at the gala event at Vientiane's Don Chan Palace hotel to celebrate the event, reported Vientiane Times.



Number 3 FDI in Laos: Thailand



Thailand invested in 276 projects in Laos worth $2.68 billion, said the Bangkok Post on June 6, 2011.

Various Thai companies have been undertaking ventures in Laos, ranging from construction and power to paper and sugar milling, said the paper. For example:


- A large power plant in Hongsa district in Laos is a joint venture between Banpu and Ratchaburi Electricity Generating Holding Company. It is the biggest project finance syndication deal ever undertaken in Thailand, in which the Bangkok Bank played a key role.
- Italian-Thai Development which has built various dams
- Siam Cement which has subsidiaries that are undertaking plantations for the company's paper businesses
- Thai sugar producer Mitr Phol has sugarcane plantations in Laos

| | | | | | |
| --- | --- | --- | --- | --- | --- |
| | Lao PDR | Thailand | Vietnam | Cambodia | Myanmar |
| Electricity (US$/kWh) | 0.0351-0.05 | 0.0294-0.1396 | 0.0283-0.1396 | 0.1258-0.1572 | 0.0814 |
| Water (US$/M3) | 0.52 | 0.66 | 0.43 | 0.50 | 0.21 |
| General Labor (US$/day) | 1.00-1.50 | 4.48-5.86 | 2.50-3.00 | 3.00-5.00 | 2.50-3.50 |
| Company Tax (%) | 8-10% | 10-30% | 28% (standard tax rate) | 20% (standard tax rate) | 30% with 10% as Capital Gain Tax |
| Personal Tax (%) | 5% flat rate | 10-30% | 10-40% | 5-20% | 3-30% |
Source: SAVAN Park, Savannakhet
Table: by Business-in-asia.com


Number 4 FDI in Laos: South Korea
The fourth largest foreign investor in Laos is the Republic of Korea with projects worth US$512 million.




The fifth largest foreign investor

is France with projects worth US$459 million.

Japan, India and Australia fill t

he sixth, seventh and eighth investor

spots.

Norway and Malaysia are

ninth and tenth

respectively.


---
Other useful article on our website: