---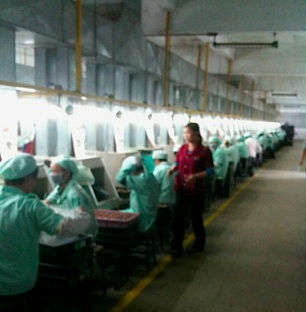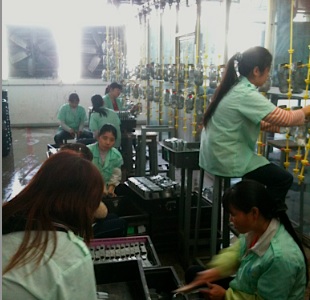 Minimum wages have been rising throughout China since the end of 2010 in the wake of labor shortages, a spate of strikes and surging inflation. Premier Wen Jiabao pledged during an on-line chat with the public Sunday that the government would raise salaries of low-income groups and minimum living allowances to ensure fair income distribution, reported Xinhua News.

The consumer price index (CPI), a major gauge of China's inflation, rose 4.9 % in January from a year earlier as food prices increased 10.3 % due to rising demand and a drought in key grain-growing regions. The central government has been encouraging wage hikes in the hope of boosting consumer spending and reducing the economy's reliance on exports and four cities and provinces in China have raised their minimum salaries since the beginning of the year, according to many newspapers in China.

The New York Times reported on March 11, 2011 that "Last year, when the economy grew at an annual rate of 10.3 percent, China's consumer price index rose by 3.3 percent. But in the final three months of last year, the index rose sharply, to 5.1 percent in November, a 28-month high. This year, the Chinese government lowered its economic growth target to 7 percent."
Wang Qing, a Hong Kong-based economist at Morgan Stanley, said to the paper that,
"Inflation remains at an elevated level and it has not peaked yet," "We think inflation will rebound in April or May and peak midyear."

According to Bloomberg News reported
on February 23, 2011,
China "..embracing wage increases that threaten to erode retailers' margins and demand for bonds". Li & Fung Ltd. of Hong Kong, the biggest supplier to Wal-Mart Stores Inc., gave a prediction to the paper that the price of Chinese exports will increase as much as 15 percent this year as workers earn more." Further, according to a specialist at Credit Suisse, the pay of migrant laborers in China would continue to climb 20 percent to 30 percent in the next three years as Chinese leaders endorse income gains to strengthen domestic demand, he predicted.
China's leaders said earlier this month that boosting people's incomes was a major task for the nation in its next five year plan, which starts in 2011, reported China Daily newspaper.
---
Below are our report for: Shanghai, Guangdong, Eastern Shandong, Shenzhen, Beijing, Tianjin and East China's Jiangsu's on New Minimum Wage Rates.
- Guangdong: 18.2%
Guangdong province and the eastern province of Shandong announced an increase of minimum wages on Tuesday March 2, 2011. Guangzhou, the capital and the largest city of Guangdong province, raised its minimum monthly salary to 1,300 yuan ($198), which was the greatest amount seen among mainland cities, according to China Daily newspaper. The change amounted to an 18.2% rise above the city's previous minimum monthly salary of 1,100 yuan. Guangzhou's minimum hourly wage was also increased to 7.47 yuan an hour from 6.32 yuan an hour.
Guangzhou is not the only place in Guangdong province to institute such an increase. The minimum salaries in Foshan, Zhuhai, Zhongshan and Dongguan in the Pearl River Delta region, all of them industrial hubs, have been lifted to 1,100 yuan a month, said the paper.
Ou Zhenzhi, director of the Guangdong provincial department of human resources and social security, told China Daily that the province's minimum salaries were increased in accordance with a rise in the local prices of various goods and services. Early this year, Ou predicted that Guangdong, which contains a large number of foreign companies, joint ventures and private companies, would suffer a shortage of more than one million workers this year. Guangzhou alone is expected to see a labor shortage of 150,000. Guangdong province, the country's exports hub, increases the minimum pay to help ease the regions labour shortage.
Lin Jiang, a professor of public finance and taxation from Lingnan college of the Guangzhou-based Sun Yat-sen University, said the increase in minimum monthly salaries will likely place pressure on the province's small and medium-sized enterprises, reported the paper. However, large numbers of local Chinese companies and workers have welcomed the new move. For example, Yao Shijun, who runs a paperboard factory in Foshan's Nanhai district, told the paper that the increase in minimum wages would certainly help attract more migrant workers to Guangdong and help employers recruit more workers in the future.
- Shanghai: 14%
Shanghai announced Wednesday March 3, 2011 that it would raise minimum wages by up to 14% from April 1, 2011 to help low-income families keep up with surging prices, reported Xinhua newspaper.
The hike would bring the minimum monthly wage in the city to 1,280 yuan($194) from the current 1,120 yuan, the city's government said at a press conference.
- Beijing: 21%
The minimum monthly salary in Beijing was increased to 1,160 yuan from 960 yuan in January 2011, 20.8%. The increase to 1,160 yuan ($175) a month from 960 yuan, the second boost for this year. According to a statement from the Beijing Human Resources and Social Security Bureau, the city will also raise pension and unemployment benefits, reported China Daily. Local governments are augmenting wages to head off worker unrest and help households cope with accelerating inflation, which reached a 28-month high of 5.1% in November 2010.
- Tianjin: 16%
The northern Chinese city of Tianjin also plans to increase the minimum wage level by 16% due to rising inflationary pressures and labor shortages. The city planned to hike the minimum monthly wage to 1,070 yuan ($163) from the current 920 yuan, report the newspaper. Tianjin last raised the minimum monthly wage by 12 percent to 920 yuan from 820 yuan in April 2010.
- Shenzhen: 20%
China's southern economic powerhouse Shenzhen will raise its minimum wage by 20%, reported Xinhua News. The hike, effective from April 1, would bring the minimum monthly wage in the city to 1,320 yuan ($200) from the current 1,100 yuan. It is Shenzhen's largest one-time wage hike over the past 19 years, official statistics showed.
- Jiangsu: 15%
East China's Jiangsu province announced at the beginning of 2011 to lift its minimum wage standards by over 15%, raised its minimum salary level to 1,140 yuan a month (from the original RMB960), reported Xinhua News. Second tier cities to RMB 930(from the original RMB790), and third tier cities to RMB800 (from the original RMB 670). The minimum hourly wage of first tier cities will go up to RMB9.2 (from the original RMB7.8), second tier cities to RMB7.5 (from the original RMB6.4), and third tier cities to RMB6.5 (from the original RMB5.4)
---
Cai Zhizhou, deputy director of the Institute of National Accounting and Economic Growth at Peking University, told the newspaper that the salary hikes in China will accelerate the country's process of industrial restructuring, since higher labor costs will force enterprises to move to more technologically advanced areas and transform China's export-oriented economic growth model to domestic demand-promoted.

However, there are also worries from some experts who feel that the wage lift may lead to layoffs in certain industries where companies have increased labor force costs. Our view is that increasing wages in China, not just at the basic level but throughout the range of jobs is making it increasingly more challenging for suppliers seeking to out source work. In the past several years, it used to be the rule that China was always the cheapest to out source manufacturing. This still remains true in many industries with the exception of those with a high labor content. Further, Increasingly this is becoming less true in not only labor intensive but other types of manufacturing and companies are having to look beyond China to Vietnam, Indonesia and even Thailand to find the best mix of price and quality for manufacturing.




---