---
Industrial Zones in Cambodia offer tax exemptions on imported raw materials, construction materials and equipment, while the country also enjoys zero tariffs on exports to the EU as a least-developed country under the "Everything but Arms" program. Further, investors in Cambodia increasingly enjoy tax exemptions on exports to a host of major economies as Asean is looking to move towards zero tariffs on trade in most goods by 2015 and as a bloc has agreed to bilateral free-trade agreements with South Korea, China, Japan, Australia and New Zealand in recent years, reported the Phnom Penh Times on June 2011. These have helped Cambodia attract foreign investment. However, the country is facing problems with the available pool of workers. As seen in a survey - in terms of people risk, the US-based multinational reinsurance and recruitment firm, Aeon Hewitt, in November 2010 ranked Phnom Penh second to last out of 32 cities in the Asia-Pacific due to low levels of education and skills in Cambodia. Only Dhaka scored lower.




(Picture left) Even though Cambodia's Industrial Production Growth Rate in 2010 was still low, the tax incentives and Asean's new zero tariffs on trade should help the country attract more FDIs.





Even though Cambodia registered unemployment was just 2% in 2011, the International Labour Organisation (ILO) found 80% were in low-paid, vulnerable work. This has prompted many Cambodians to seek better-paid low-skilled work in Thailand, Malaysia and South Korea among other countries.

The Bangkok Post reported statistics from the ILO that from 2007-10, some 100,000 Cambodians registered to work in Thailand, but many more are thought to be working illegally in the country.

The Phnom Penh Special Economic Zone (PPSEZ) takes the Lead: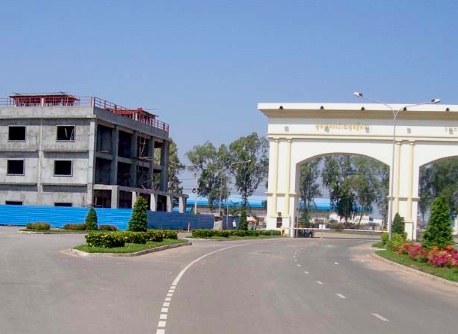 (Picture above) The Phnom Penh Special Economic Zone (PPSEZ)
- also see our previous article: "Cambodia - More than you might Expect"

On May 19, 2011, The Phnom Penh Special Economic Zone (PPSEZ) announced its recruitment drive. There are about 20 or so Cambodian special economic zones that have proven a success so far, including the PPSEZ. It has already attracted large multinationals from East Asia including Ajinomoto, Yamaha and Mineaba as well as Sumitomo Electric Industries, a Fortune 500 company. Currently, PPSEZ has also faced a lack of suitable workers which threatens to hold back the project amid rising interest from foreign firms as the global economy continues to recover, said a PPSEZ press release.

In a bid to develop skills to help supply the necessary labour to investors, Mr Uematsu, General Manager of PPSEZ said the PPSEZ planned to set up a vocational training school with the government and companies operating in the zone to provide more practical training programmes that meet investors' needs. They will do a continuous campaign throughout Cambodia to encourage young Cambodians to work in the PPSEZ, not abroad.

Companies that have decided to invest in the PPSEZ have seen smaller supply chain companies join them, given the market opportunities in Cambodia's underdeveloped industrial sector. For example, Ajinomoto previously sourced its packaging from Singapore, but after opening a new packaging plant in the zone last October, a Chinese company, Xishan, has come in to fill the void, said Mr. Uematsu. Similarly, the Japanese machine parts manufacturer Minebea is starting to attract a host of supply companies to the PPSEZ.

"High-ranked management staff were more difficult to find in Cambodia", said Kosal Sim, human resources manager at Ajinomoto to the Bangkok Post. Of the 160 or so employees at the factory, only seven are foreign including President Ichiro Nishimura of Japan, but all of these fill managerial positions, said Kosal Sim, including six Thais brought over from Ajinomoto's factories in Thailand. Almost all the Cambodian employees work in the firm's packaging plant in the PPSEZ, with the lowest paid receiving $73 a month, about the same as the average salary of a Cambodian working in the garment sector, the country's biggest export industry.
---