---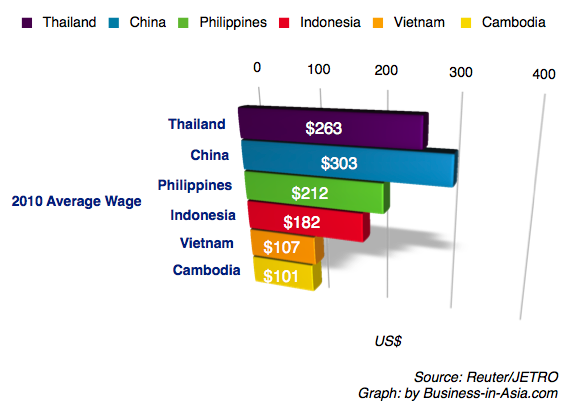 ---
Average factory wages in Asia accelerated in 2010 and have continued to increase in 2011. As will be seen in the above chart, factory wages in China now exceed those in SE Asia. Further, this trend is continuing as China wages continue to climb in 2011.

In May I traveled throughout the Pearl River and Shanghai River delta regions and throughout Beijing and the surrounding area. What I heard from both foreign and Chinese managers was that most had increased wages by 20 percent or more in 2011 for their factory workers. When I asked them what they projected for 2012, they mostly responded that they saw similar increases as likely in 2012 based on Chinese government policy, increased inflation and other factors. This means that by 2012, factory wages in China are likely to exceed $500/month and that increases are likely to continue.

Factory wages in SE Asia are also rising in the face of inflation, government policy and other factors but so far at a slower rate.

Laos has the lowest factory wages in SE Asia but so far at least still has little manufacturing industries.

Next to Laos comes Cambodia which is seeing increased investment in low cost textiles and garment companies.


Vietnam is in the number three slot and is the first with a much larger and more competitive manufacturing base. Currently Vietnam gets considerable interest from companies moving operations out of China and also from new manufacturing businesses that are seeking an additional Asian manufacturing location. We see this trend as continuing as Vietnam offers a growing retail market, a young population, relatively low costs, good access to ASEAN and a pro-business environment with generally predictable rules and regulations, low crime and terrorism plus a highly talented and energetic workforce. Challenges exist for Vietnam in terms of inflation, a growing trade deficit and the possibilities of further currency depreciation but even with these factories considered, we feel Vietnam remains a good place to invest in 2011 and 2012.
---

About the Author
:
Christopher W. Runckel, a former senior US diplomat who served in many counties in Asia, is a graduate of the University of Oregon and Lewis and Clark Law School. He served as Deputy General Counsel of President Gerald Ford's Presidential Clemency Board. Mr. Runckel is the principal and founder of Runckel & Associates, a Portland, Oregon based consulting company that assists businesses expand business opportunities in Asia. (
www.business-in-asia.com
)
Until April of 1999, Mr. Runckel was Minister-Counselor of the US Embassy in Beijing, China. Mr. Runckel lived and worked in Thailand for over six years. He was the first permanently assigned U.S. diplomat to return to Vietnam after the Vietnam War. In 1997, he was awarded the U.S. Department of States highest award for service, the Distinguished Honor Award, for his contribution to improving U.S.-Vietnam relations.